CASE STUDY
Jebel Ali Sewage Treatment Plant
Buried Coatings
Project Data
| | |
| --- | --- |
| Location | Dubai, U.A.E. |
| Contractor | Besix and L&T |
| Consultant | AECOM Middle East Ltd |
| Agent | Bin Moosa & Daly Ltd |
| Client | Dubai Municipality |
| Products | Denso Petrolatum Tape System, Denso Bitumen Tape System |
| Date | March 2018 |
Project Details
Work has begun on the second phase of the Jebel Ali Sewage Treatment works which, when combined with the first phase of works, will be the largest sewage treatment project ever undertaken in the Gulf Cooperation Council (GCC) region.
Dubai is set to be the host of Expo 2020: a Universal Exposition that celebrates human ingenuity and begins on October 20th 2020. The six-month long festival is expected to bring millions of visitors into Dubai and the surrounding areas, which the Dubai Municipality has recognised would put strain on the sewage treatment facilities in the region. With this in mind, the construction of a new sewage treatment facility began in 2016 and is currently ongoing until the planned completion in 2019. The new sewage treatment works will ensure Dubai's sewage output will be treated to international standards and without environmental nuisance.
Dubai has strict irrigation water standards due to its desert location. The new facility will allow the city to cut back the use of desalinated seawater for non-potable use by 700,000,000 litres per day. The main contractors on the project, Besix and L&T, are in the process of constructing 77 new tank clusters and building structures in order to fulfill this target. All of these new structures require a substantial amount of buried pipework to connect them all. Through local agent Bin Moosa & Daly Ltd, Denso have been selected to provide two systems to ensure the long-term protection of buried pipework throughout the facility.
The first is a petrolatum tape wrap system for pipework of 40mm and 80mm diameter. Denso™ Paste is used as a primer with Densyl™ Mastic used to create even profiles around bolts and awkward shapes. Densyl™ Tape is then spirally applied to the pipework with a 55% overlap to ensure full, even coverage across the length of the pipe and associated fittings. Finally, a layer of Denso PVC Outerwrap™ is applied to fully seal the system and provide excellent UV protection until the pipework is buried.
The second system is a bitumen infused tape backed with a PVC film which is resistant to damage from impact or poor backfill. A bitumen-based primer (Denso Primer D™) is applied before the Densopol 60HT Tape™ is spirally wrapped on top. The system is finished again with Denso PVC Outerwrap™ for extra stability, with the 'high-temperature' version of Densopol tape selected due to the local desert environment. The bitumen-based tape wrap system is used on 100mm to 600mm diameter pipework.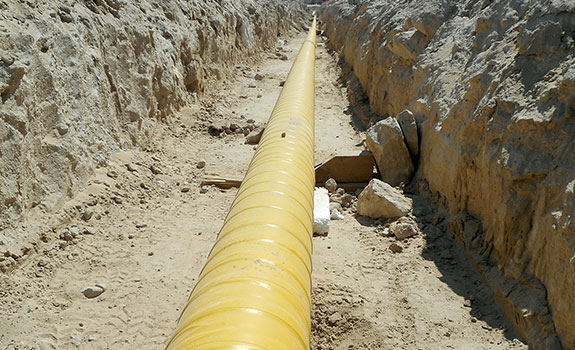 A completed application of a tape wrap system on site at the Jebel Ali Sewage Treatment Works.
Phase 2 of the Jebel Ali Sewage Treatment Works.
Overview of the site (Image Credit: www.besix.com)