CASE STUDY
Sewa – Hamdah to Bediyah Carbon Steel Main Transmission Pipeline
Buried Coatings
Project Data
Location
Sharjah, U.A.E.
Client
SEWA – Sharjah Electricity and Water Authority
Contractor
Three main contractors responsible for different zones of the pipeline as follows: Darwish Engineering
Emirates, Ocean Oilfield Drilling Rigs & Marine Engg Services and GEFS – Gulf Eco Friendly Services
Consultant
Jacobs Engineering Group Inc
Distributor
Bin Moosa & Daly Ltd
Products
Denso Paste™, Densyl™ Tape applied with a 55% overlap (two layers) and Denso PVC Self-Adhesive Tape™ Yellow – applied with two 55% overlaps (4 layers)
Date
July 2020
Project Details
Sharjah Electricity and Water Authority, also popularly known as 'SEWA', is a government utility in the Emirate of Sharjah. They provide electricity, water and natural gas to over 300,000 consumers.
One of the significant achievements that SEWA has achieved is the successful completion of the five ISO policies:
– ISO 9001:2008 (Quality)
– ISO 14001:2004 (Environment)
– OHSAS 18001:2007 (Occupational Health and Safety)
– ISO 50001:2018 (Energy)
– ISO 55001 (Asset Management)
Winn & Coales (Denso)'s Densyl™ Tape system was selected for the long-term protection of all buried 800mm diameter girth weld joints on the 40km external 3LPE coated carbon steel pipeline, along with all fittings, flanges & dismantling joints – based on its success with numerous similar projects throughout the U.A.E.
Winn & Coales (Denso) Ltd is approved to BS EN ISO 9001:2015, Certificate no. FM 01548 and ISO 14001:2015, Certificate no. EMS 583748. All our products are manufactured and tested to internationally recognised test methods, i.e. ASTM methods, and supplied strictly in accordance with the requirements laid out in the ISO 9001 International Quality Standard, and the company's ISO 9001 Quality Manual.
Our UAE Distributors, Bin Moosa & Daly, are renowned for their sound business practices (also with ISO accreditation), customer-orientated approach and as a one-stop-shop for leading European and Australian brands of MEP products. Their experienced Engineers provide accurate solutions, backed by dedicated, reliable service and logistics teams. Together, Winn & Coales (Denso) Ltd and Bin Moosa & Daly Ltd ensure that our customers receive the right product with the right quality at the right time.
Two layers of Densyl™ Tape applied with a 55% overlap
Denso PVC Self-Adhesive Tape™ (Yellow) – applied with two 55% overlaps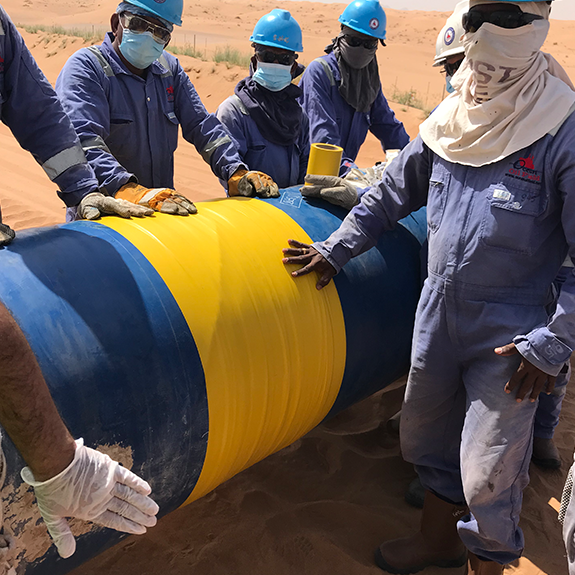 Denso PVC Self-Adhesive Tape™ (Yellow) – applied with two 55% overlaps
The pipeline, protected with the Densyl™ Tape system, is ready for installation
The pipeline in-situ