CASE STUDY
SeaShield Rigspray Micro Protects The Burnett River Bridge
Exposed Surface Coatings
Project Data
| | |
| --- | --- |
| Location | Bundaberg, Queensland, Australia |
| Contractor | Messrs Corroseal Pty Ltd |
| Products | SeaShield Rigspray™ |
| Date | September 2005 |
Project Details
The Burnett River Bridge located near the Queensland town of Bundaberg is a heritage listed structure, constructed in 1895 and still rated to 40 tonnes of traffic. The bridge is used by sugar cane farmers to transport product to the sugar refineries.
Following on from an inspection by the Queensland Department of Main Roads, pylon one was found to be splitting apart at the longitudinal weld and a long-term refurbishment solution was required.
The selected system was a steel sleeve that required corrosion prevention able to provide long term service in all conditions. The contractor applied two coats of SeaShield Rigspray™ 'Micro' at a minimum 600 micrometres dry film thickness.
This micro glass flake reinforced Isopthalic Polyester material is able to withstand the stresses associated with transportation, installation, varying river conditions and thermal expansion as well as delivering outstanding corrosion and impact resistance. The finished installation was inspected and approved by both the Client and an Independent Consultant.
The steel sleeve coated with Denso Rigspray Micro being lifted from a nearby pier
The sleeve being fixed into position around the damaged bridge pylon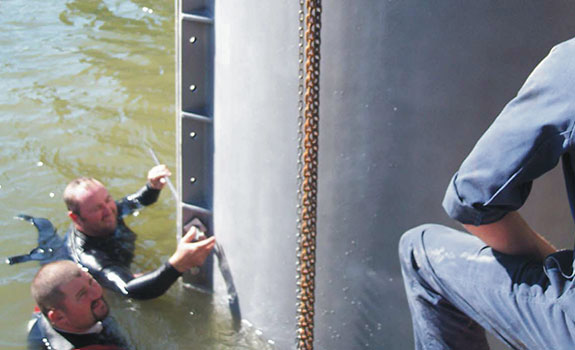 The sleeve being fixed into position around the damaged bridge pylon