CASE STUDY
Densoclad™ Protection for Llanelli Sewage Main
Buried Coatings
Project Data
| | |
| --- | --- |
| Location | Llanelli, South Wales |
| Contractor | Morrison Construction |
| Client | Welsh Water |
| Products | Densoclad 70™ Tape and Denso Profiling Mastic™ and/or Densyl™ Mastic Blanket |
| Date | April 2007 |
Project Details
Morrison Construction PLC replaced an extensive glass fibre sewage rising main at Llanelli, South Wales, with ductile iron pipework. The project was undertaken on behalf of Welsh Water in order to upgrade the conveying of sewage from Llanelli to the nearby sewage treatment plant at the Northumberland pumping station.
Morrison's chose a Densoclad™ system installed to a P2 specification for protecting the joints and fittings on the 3675 metre, 900mm diameter ductile iron pipeline. Denso Profiling Mastic™ and/or Densyl™ Mastic Blanket are first applied, where required giving a smooth contour to ensure rapid and effective application of the Densoclad 70™ Tape.
Densoclad Tape consists of a thick bitumen adhesive laminated to a tough plasticised PVC backing. These cold-applied tapes are designed for the long-term protection of buried or immersed pipes and fittings.
Laying of the ductile iron pipeline in progress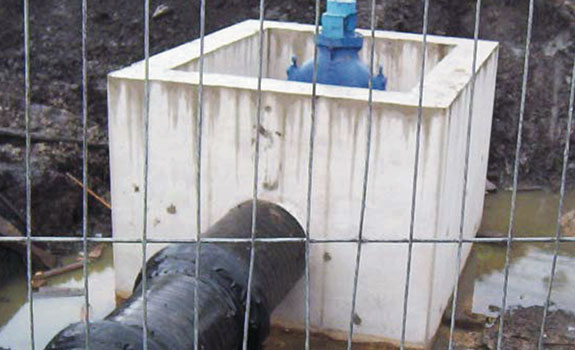 The completed P2 Densoclad™ protection
Stockpiled pipe lengths