>
Denso Steelcoat™ Protects Newquay Private Suspension Bridge
Denso Steelcoat™ Protects Newquay Private Suspension Bridge
If your home is the beauty of an island, connected to the Cornish coast by a suspension bridge, you have few problems – but one of the biggest is the corrosive marine atmosphere. When the owners of The Island in Newquay were planning maintenance work on their private footbridge they wanted to use a product which would give the steel cables long-lasting protection against the harsh coastal elements.
Winn & Coales (Denso) Ltd were contacted to meet this challenge and advised the use of their Denso Steelcoat 100/400™ system.  Denso Steelcoat™ Systems provide a cost-effective, long term solution to corrosion on exposed steel and can provide many years of maintenance free service life.
After surface preparation, Denso Hi-Tack Primer™ was applied, followed by Densyl™ Profiling Mastic for filling awkward profiles. Denso Hi-Tack Tape™ was then applied, followed by Denso Ultraseal Tape™ and finally painted with Denso Acrylic Topcoat™.
The suspension bridge connecting The Island to the mainland.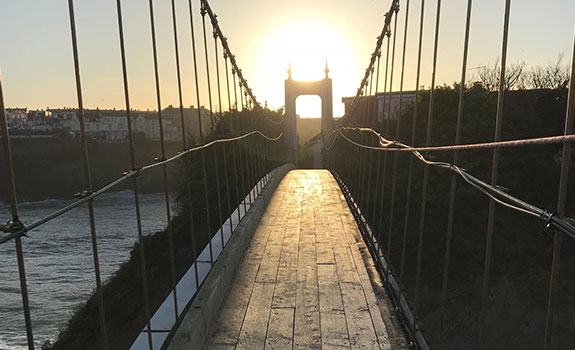 Visitors cross the suspension bridge to access the private holiday home.
The Steelcoat 100/400™ System was applied to the impressive structure to protect it from the corrosive marine environment.