CASE STUDY
Denso Steelcoat 400™ Protects Barge Roof Structure at Richards Bay Heavy Minerals
Exposed Surface Coatings
>
Denso Steelcoat 400™ Protects Barge Roof Structure at Richards Bay Heavy Minerals
Project Data
| | |
| --- | --- |
| Location | Richards Bay, KwaZulu Natal, South Africa |
| Contractor | PJ Painters |
| Client | Richards Bay Minerals |
| Products | Denso Steelcoat 400™ System |
| Date | August 2008 |
Project Details
Richards Bay Minerals (RBM) is a leading producer of titania slag, high purity pig iron, rutile and zircon. The company is situated in Richards Bay on the Indian Ocean coastline in northern KwaZulu Natal, South Africa.
RBM uses an ingenious dredge mining operation to extract and separate the heavy minerals ilmenite, rutile and zircon (about 5% in volume) from the sand. A large artificial freshwater pond is created in the dunes on which they float the dredger and concentrator plant, burrowing into the mining face of the dune. As the sand face is undermined, it collapses into the pond forming a slurry which is sucked up and pumped to a floating concentrator. At this point, the heavy minerals are separated from the sand using a gravity process and stockpiled as heavy mineral concentrate (HMC) for transportation to the smelter site.
Due to this process as well as the coastal environment, corrosion is a serious concern. To combat this, the Denso Steelcoat 400™ System was selected to protect the roof structure of the dredger, as at the highest point the structure is exposed to the prevailing winds and salt sea air.
PJ Painters, Denso's applicators of the Steelcoat System for many years, are the resident contractors on site and are currently applying the 3500sq.m. of Steelcoat 400.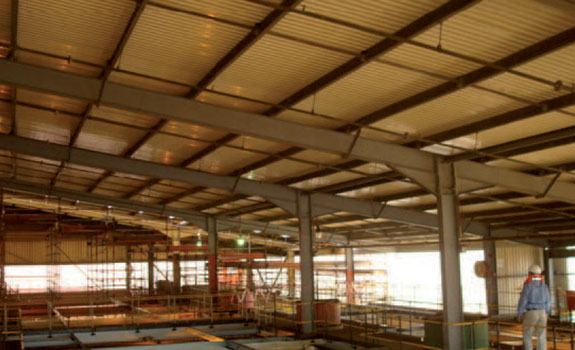 The roof structure of the dredger is protected against the highly corrosive environment with the Denso Steelcoat 400 System