CASE STUDY
Denso Aids Installation of Erskine Bridge Crash Barrier
Sealing & Waterproofing
>
Denso Aids Installation of Erskine Bridge Crash Barrier
Project Data
| | |
| --- | --- |
| Location | Glasgow, Scotland |
| Client | Transport Scotland |
| Contractor | Highway Barrier Solutions |
| Engineers | Scotland TranServe |
| Products | Densoband™ |
| Date | February 2015 |
Project Details
Densoband™ has been chosen for use in the installation of new crash barriers on the A898 Erskine Bridge, Glasgow. The volume of traffic has greatly increased since the bridge was opened in 1971.
Consequently the existing barriers in the central reserve were not providing appropriate levels of protection to the bridge towers and cable anchorages against impact from the largest HGV's. Similarly, nearside barriers needed replacing in this project. All of the new barriers were designed by Flint & Neil, specialist bridge consultants.
The work was carried out for Transport Scotland who appointed Highway Barrier Solutions (HBS) as Principal Contractor. Scotland TranServe is the Engineer who managed the work.
The Glasgow branch of Briggs Amasco, specialists in industrial roofing and surface waterproofing recommended the use of Densoband in the reinstatement of the road asphalt adjoining the steel posts of the new crash barriers. Densoband was used to form a flexible weatherproof seal on the vertical joint face between the asphalt and steel.
Working in conjunction with Scotland TransServe, Briggs Amasco applied all the asphalt reinstatement and Densoband. Densoband is approved by the Department of Transport in the Manual of Contracts 7th Edition for use in asphalt wearing course joints.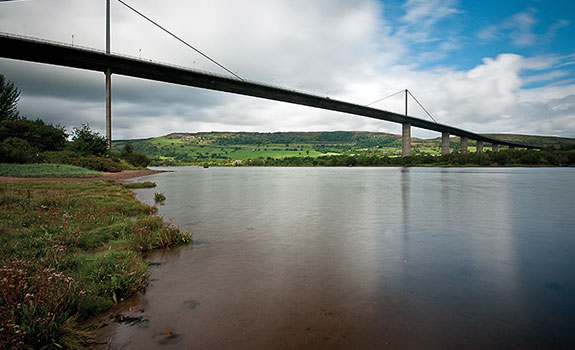 The Erskine Bridge