CASE STUDY
Archco™ Protects Oil Production Water Filter System
Industrial Coatings & Linings
Project Data
| | |
| --- | --- |
| Location | Moray, Scotland (Destination: Azerbaijan) |
| Client | Petreco Ltd / Azerbaijan International Operating Companies (AOIC) |
| Products | Archco 403D™ |
| Contractor | Forsythe Ltd |
| Date | April 2009 |
Forsythe Ltd of Rothes, Moray, N.E. Scotland, completed the fabrication of five vessels which make up a water disposal media filter system destined for oil production in Azerbaijan.
In order to give maximum internal protection from corrosion, the vessels were first shot blasted and then given a spray application of Archco 403D™ vinyl ester glass filled coating. The two largest of the five vessels internally coated have a capacity of 268 cubic metres.
The work was carried out by Forblast who are Forsythe's specialist coating subsidiary company.
The contract was placed with Forsythe and Forblast by Petreco Ltd of Rugby, who were working directly for the Azerbaijan International Operating Companies (AOIC). Member companies of AOIC include BP, Statoil and ExxonMobil, among others. Once installed in Azerbaijan the 'Produced Water Disposal Media Filter System' will allow significant increase in the production of oil.
One of the large vessels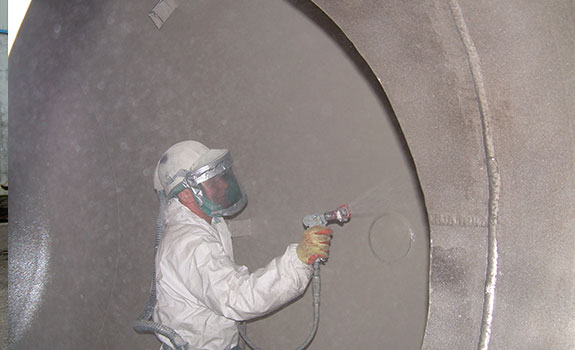 Spray application of Archco 403D™
Internal shot of the vessel showing the completed lining