CASE STUDY
Rehabilitation of River Crossing Gas Pipeline
Subsea & Splash Zone Coatings
>
Rehabilitation of River Crossing Gas Pipeline
Project Data
| | |
| --- | --- |
| Location | Hazera, India |
| Client | Oil and Natural Gas Corporation (ONGC) |
| Contractor | YOJAKA |
| Product | SeaShield 2000FD™ |
| Date | July 2016 |
Project Details
ONGC is the largest producer of crude oil and natural gas in India, contributing around 70% of Indian domestic production. The crude oil is the raw material used by downstream companies like IOC, BPCL, HPCL to produce petroleum products like Petrol, Diesel, Kerosene, Naphtha and Cooking Gas-LPG.
For rehabilitation of the exposed 36″" diameter pipeline across the Tapti river near the ONGC plant, where the concrete coating of the pipeline was damaged, Denso SeaShield 2000FD™ was chosen. Because of the unique requirement of the pipeline which is submerged during high tide and may also get buried during certain seasons, they wanted a unique solution and SeaShield perfectly fits the bill as far as in-situ application, ease of application, limited window for application and minimum surface preparation requirements are concerned.
Application of the SeaShield 2000FD™ Jacket.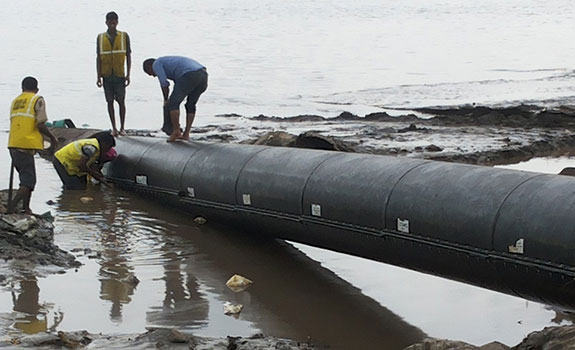 Multiple jackets along the pipeline.